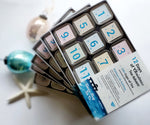 December 1st...can hardly believe it..where does the time go? Every year we try to plan our holiday offerings early...good intention but doesn't seem to work out that way. Somehow (well we know how...hard work, great team, fabulous collaborators) we always manage to get our holiday offerings out just in time..this year we sure cut it close with our 2021 Tea Advent - 12 days of Christmas.  Available for shipping in mid- November which in reality was a little late but that didn't seem to make a difference...sales were amazing and we breathed a sign of relief..whew done!
Although our annual tea advent calendars are always a sell out we wanted to take it up a notch this year. Packaging is my weakness and it's important to me to be offering something that isn't excessively packaged. Tempting as though that may be with all the lovely custom printed tissues, tapes, boxes etc. With the launch of our new labels in the early spring a new colour pallet became something to play with...pastel pink, blue, green, yellow and oh the possibili-TEAS!! 
Then deciding which of our new teas to feature in our holiday gifts...Hot Toddy Ceylon, Caramel Cappuccino Rooibos, Sugar Plum Tisane to name a few. The last few years have seen huge growth in the tea business. With so many people turned on to tea and the tea market full of new products such as flavoured matchas, tea latte mixes etc. there are just so many fun products out there.
Our offering has always been about great tasting, unique recipe blends that are well priced and available to everyone. DBT Co. teas are not high-end exclusive luxury teas or teas filled with sugars or additives. Our offering is classic and flavoured tea blends sourced ethically and blended in Canada with quality ingredients and with that in mind we try to make sure our packaging reflects that. Simple, good and unique without the excess (in price or packaging) that is fun and stays on brand. There were unique challenges with sourcing packaging materials and sadly our popular tea gift boxes were one of the casualties. 
We hope you enjoy our new products: 
Holiday Samplers for $35 - 6 to choose from: GOAT, Extra, Spill The Tea, Breathe, Chill and our most popular Shine Bright! 
Holiday Tea Tins from $9.95  with a selection of limited production holiday tea blends. When they are gone, they're gone!
12 Days of Christmas - Tea Advent ** Limited Edition ** for $42 
Plus a selection of holiday teas available from our shop partners.
All of our holiday products are included in our FREE SHIPPING discount on orders over $75 for BC, AB, SASK and MB and orders over $100 for the rest of Canada.
Happy shopping and hope your holidays are full of great times with family, friends, good food, restful moments and of course cups of delicious Davis Bay Tea!!
Mara